Looking for what is sure to be the hottest construction industry trends in 2023? Here are a few that you can expect to continue as 2022 comes to a close.
1. Wearables
Smart tech and the internet of things have teamed up to help further improve worker safety and health while on the job site. Smartwatches, hard hats, and boots are not only keeping workers safe, but they can also report accidents and call for help. These devices can track heart rate, temperature, and even brain waves to alert workers when they are in the danger zone. And because the devices are trackable, supervisors can locate and count workers on site instantly for manpower reports.
2. Drones
Drones are being used on construction sites for safety monitoring, progress reporting, surveying, and site walk-throughs. Their use should continue to increase as contractors become more comfortable with the technology and see the benefits. A construction worker can now see hidden areas of buildings that they couldn't access with standard means. They can even be used to detect unseen leaks and water damage.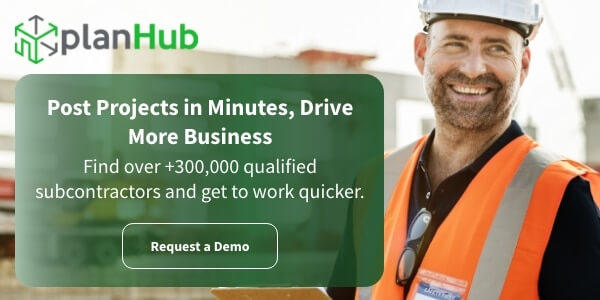 3. Renewable energy
With the current administration's focus on renewable energy and green construction, we can expect an increase in demand. Cities are beginning to adopt new construction mandates that require the use of electricity in new buildings in an effort to decrease our dependence on oil and natural gas. Constructing buildings that generate as much electricity as they use (net zero energy) will continue to gain popularity. The rising demand for renewable power is bound to affect the industry for several years.
4. Data as a tool
Construction is one of the slowest industries to adopt new construction technology, so it is certainly behind the times when it comes to using data as a tool. But as more construction firms see the advantages of technology (see #1 and #2 above), they will be more comfortable relying on it to help them improve their businesses and processes.
Some construction companies are already using automation in construction projects, artificial intelligence, machine learning, information modeling, and analytics to improve their efficiency and safety. As more companies see the benefits of these tools, we can expect that number to grow.
5. Continuing skilled labor shortage
In May 2022, labor statistics estimated 466,000 open jobs in the construction industry. This represented a 39% year-over-year jump and was the largest total ever for May. The crisis is expected to worsen with the passing of the recent $1.2 trillion Infrastructure Investment and Jobs Act.
The Association of Builders and Contractors estimates the construction sector will need to hire 650,000 additional workers on top of the normal hiring pace in 2022 in order to keep up with demand. In 2023 things aren't expected to get much better. The United States construction industry will need 590,000 new skilled workers on top of the normal hiring rate.
The shortage of skilled workers is expected to continue impacting construction schedules, lead time, costs, and completion rates. Undoubtedly, it will impact how construction project management plans for each project.
As the economy continues to dig out of the recession caused by the pandemic, the global construction industry continues to struggle with some of the same factors as every other business: price volatility and a lack of workers. By adopting new technologies, construction companies can attract younger workers to the industry and complete the recovery process.
If you are interested in general contractor software free or want to find new construction projects, check out our construction bidding websites.