Creating a bid for electrical work begins by choosing the right project. Then review the bid documents, do a quantity takeoff, request quotes from suppliers, then estimate your labor and overhead and profit margin. You next create the proposal, review it, and submit it to the general contractor or project owner.
In this article, we are going to walk you through the process of bidding electrical work.
1. Choose the right project
The first step to bidding electrical work is to select the right project for your company in order to achieve the most efficient construction productivity. Obviously, you want projects that include electrical work in them. Most remodels and renovations will have some electrical work. Most general contractors will want to match the type of work to their company's skill set. Do you have workers that can complete the specified work efficiently?
You also want to take into consideration the location of the project. It should be near your base of operations, or somewhere that you can establish a temporary base during the project. Travel costs can quickly become expensive if they aren't included in your proposal.
Finally, you want to make sure that your workers have the experience needed to work with the systems and functions required on the project.
Also, make sure that your company has experience successfully bidding the type of work that's included in the electrical jobs. New scopes of work require a learning curve for your employees, which leads to higher costs and the potential for more mistakes.
2. Review bid documents
Projects sent out for bid include bid documents that tell you what work needs to be done and how it is to be done. The package may include specifications, drawings, bid addenda, and other instructions. In the specifications in the electrical estimating software, pay special attention to Divisions 01 and 26. Division 01 talks about qualifications for the work, payment terms, bonding requirements, and insurance requirements. Division 26 is specific to electrical work, and includes information on the materials, the installation methods, and who carries what costs.
Drawings are used to graphically show the work that is to be done. You'll want to review them to get a grasp on the full scope of the project. Look at the architectural plans for heights and elevations of equipment like the electrical panel, wiring, outlets, or light fixture, so you know what equipment you may need. The electrical drawings will give you technical details about your work. Review the plans and note any discrepancies with the specifications. These discrepancies should be submitted as an RFI to the general contractor (GC) or design team.
Addenda are changes that are made after the bid documents have been issued. They may be composed of revised or added drawings, revised or added specifications, or responses to questions posed by other contractors.
Some projects may include other instructions for the project. These may include items like branding guides for franchises, information on owner furnished materials and equipment, etc.
3. Do a quantity takeoff
A quantity takeoff or materials takeoff is a count of the number of materials or equipment needed to complete the work. It includes things like the length of wire, number of fixtures, amount of conduit, etc.
To complete a quantity takeoff, take each item on the job, count the number or length of materials needed as shown on each drawing page. You can do this using estimating software, an electronic scale, or a ruler and highlighter. Once you've counted the amount of each material or equipment, record the total for each item for the whole project.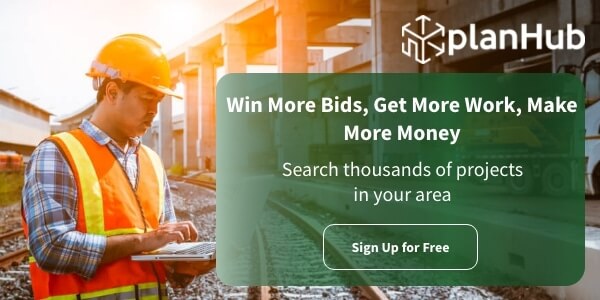 4. Request quotes from suppliers
After you've compiled your list of materials and equipment, send it to your material supplier(s), along with the appropriate specification sections and drawings. You'll want to do this as soon as possible because it may take the supplier a while to put together their quote. Sometimes suppliers wait until just before the bid is due to release their quotes. This helps prevent bid shopping, which is when you go to another supplier to try to get a cheaper price.
5. Estimate labor based on material takeoff
Next, you're going to use your material takeoff totals to estimate the amount of labor it will take to install each item. Some contractors use data from past projects to calculate their labor for each item of work. If you don't have this information, you can use a labor guide, like NECA's Manual of Labor Units. This guide will tell you how long it takes for various materials to be installed.
Once you have the labor amount for each material, multiply the quantity or amount of the material or equipment by the number of labor hours needed to install it. To calculate the total labor cost for each item, multiply the fully burdened labor rate for a worker times the number of hours required. The fully burdened labor rate includes the employee's wages plus employer paid taxes and benefits. Add up the labor costs for each item to get the total labor costs for the project.
6. Add overhead and profit
Profit is self-explanatory and is usually calculated as a percentage of the total costs for a job. Overhead includes expenses not directly related to performing the work. Examples include administrative staff, office rent and supplies, insurance, marketing, estimating and sales costs, etc. Like profit, overhead is usually calculated as a percentage of total costs. If you don't know your overhead percentage, work with your accountant to figure it out.
7. Create your proposal
The total sales price for the project is the material costs plus labor costs plus overhead costs plus profit. You'll want to use a standardized form for all your proposals to ensure you've included all the information necessary. Our article "What Should a Construction Bid Look Like?" explains what information to include in a proposal. If you don't want to create your own, you can use a template.
8. Review your proposal
Before sending, it's always good to check quantities, takeoffs, and your math to ensure accuracy. This is especially true if you're using a spreadsheet with a sum formula. Compare your pricing for past projects of similar size and scope, and if there is a large difference, you may have a problem. Also, be sure to proofread your proposal and check formatting to ensure it looks the way it's supposed to before diving into the different types of construction contracts you might need to sign.
9. Submit and respond to questions
Now it's finally time to turn in your bid. Check the Division 01 specifications to ensure that you are submitting the required information in the required format to the required person. After you've submitted your bid, you may be asked to qualify your proposal. A general contractor or owner may ask that you confirm that certain scopes of work are included or excluded in your pricing if it's not clear in your bid. You may also be asked to revise the scope of work and pricing to fit in with how the GC or owner is contracting the job. Both of these are regular occurrences, so don't worry if you are asked to change your bid. The GC or owner is trying to level the bids so they can choose the one with the lower cost.
Simplifying finding the right job
Creating a bid for electrical work is not complicated. Similar to learning how to bid plumbing work, once you've selected the right project, perform a quantity takeoff from the drawings and specifications, request quotes from your supplier, estimate labor costs, add overhead and profit, and create your proposal.
PlanHub offers general contractor software free and is here to help you find more projects to bid on. Construction bidding websites like PlanHub allow you to screen projects by location and keyword to ensure that you're only seeing projects that fit your criteria. If you're an electrical subcontractor and you'd like to see how PlanHub can help you expand your business, contact us today.