Construction is one of the least digitized industries, and it can be a struggle to get construction companies to change their way of doing things. Many contractors, however, are learning that there is real value in digitizing their processes and documentation: they are learning more about their business and how to improve operations.
Data analytics is providing actionable insights contractors need to improve their processes, make more money, and win more work. Let's take a look at what role data analytics can play in helping your construction firm.
What is construction data analytics?
Construction data analytics is the process of using software and historical data to find patterns and gain actionable insights into construction projects. The software can identify and predict when patterns will emerge, giving the construction team advance notice to take corrective action. Using this data analysis can lead to improved operations and higher quality work.
Other benefits of construction data analysis include increased productivity, more profit, improved safety, and winning more work.
What tools do you need?
To tap into this powerful data science process, you'll need four tools: data, software, hardware, and training.
Data
Construction contractors are swimming in data, but many don't realize it because they're still relying on analog systems to run their companies. Paper documents and analog communication processes make it difficult to analyze the data and identify patterns. But when information is digitized, stored, and tracked in software, the power of the data science begins to emerge.
Software
Contractors that want to take advantage of analytics have to invest in software that is capable of collecting, storing, and analyzing construction data for trends. Don't be fooled by systems that are designed for other industries. Construction is unique in many ways, and the software you use has to be developed specifically for construction.
Hardware
All employees, at every level, must be able to enter data into the system and read the results of data analysis. This means your construction team must have the hardware data collection, wherever they are. The required hardware includes desktop computers or laptops, tablets, and smartphones.
Training
Finally, once you have the above pieces in place, you'll need to train your employees on the system, including how to enter project data and interpret the results. The predictive power of analytics is based on getting accurate information from every level of a project. So, it pays to make sure everyone can properly enter the raw data and interpret the feedback the software provides.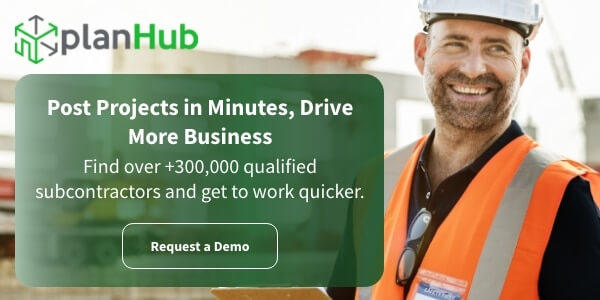 Construction data analytics examples
Construction data analytics helps contractors improve their decision making. Let's look at three examples of how it can help your contracting business: make better bidding decisions, forecast project cost overruns, reduce operational cost and predict safety hazards.
Make better bidding decisions
How does your construction company decide which projects to bid on and which to pass on? Is it a gut feeling about the project, or have you analyzed your bidding success over the years? One construction company took data from over 100 projects, including location, time and materials contract structure, and profit margin. By analyzing these factors, they discovered project characteristics that influenced their success on the project and how much profit they made. Using this information, they chose to bid on projects that they would be successful on and make more money.
Forecast cost overruns
Instead of just reporting on cost overruns that have already happened, analytics allows contractors to see where the project is vulnerable before it happens. If the entered project data includes productivity measures and manpower use, the software can monitor work progress and predict delays or added costs due to lack of production or other causes. It can also aid in forecasting the number of skilled laborers needed for the project before hiring construction workers. Events like weather delays and subcontractors who fail to show up on the project can be tied to direct cost increases.
Predicting safety hazards
When safety data is tracked and analyzed, the software can identify dangerous work activities that have caused problems before and warn workers to take additional precautions. It can also directly prevent potential problems like safety and job shutdown issues by tracking equipment maintenance requirements, and warning users about lagging maintenance, minimizing project risk, breakdowns, or malfunctions.
All contractors can use data analytics to improve their construction firm's performance, provide safer job sites, and make better decisions when finding new construction projects on construction bidding websites. General contractor software like PlanHub can help you gather the information you need to make your bidding more effective so you can win more projects. Request a demo today to see how we can help.