The labor shortage in construction continues to grow. In early 2022, the Associated Builders and Contractors (ABC) predicted that the industry would need to hire nearly 650,000 additional workers on top of the normal pace of hiring to meet the demand for labor. "The construction industry desperately needs qualified, skilled craft professionals to build America," said Michael Bellaman, ABC president and CEO.
If you're a subcontractor or trade contractor looking to hire more workers with the right construction certifications, there are a few things you can do to attract and keep good employees.
1. Provide training
If you can hire someone with just the exact skills and knowledge you need, you've hit the jackpot. You're more likely to find potential workers who are interested in what you do, but don't have the training necessary to do it. Hiring a "green" worker can be a good thing, however. Green workers don't have bad habits, and they are often more motivated.
The key is to provide a clear path of construction career growth, allowing your workers to move up the ladder as their skills and knowledge increase. If you don't have the time or skills to train new workers, partner with local apprenticeship programs or unions. They can help connect you with a steady stream of job candidates.
2. Do a working interview
It's often difficult to determine if a worker will fit in your environment by just asking questions. In addition, if they haven't worked in the industry, they may not understand exactly what the job entails. By taking a candidate to a construction site and showing them what they'll be doing and who they'll be working with, you can get an idea of how they will fit in. You can also ask your own workers for feedback, letting you know what they think of the candidate.
If you're asking a candidate to take more than two hours out of their day, make sure that you pay them for their time. The knowledge you'll gain is well worth the small investment of a few hours' wages.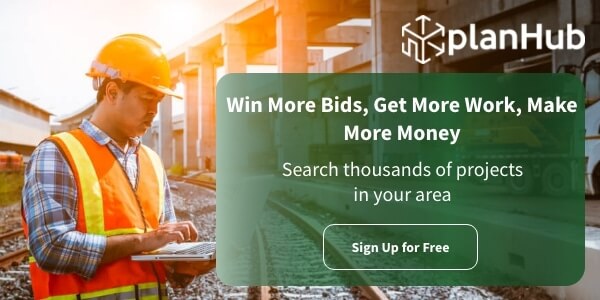 3. Get referrals
Word-of-mouth is the best way to let people know you're hiring. So, tell your workers, customers, and even competitors that you are looking for new workers. They can spread the word to their connections, expanding your reach. You just never know who will connect you to your next superstar.
4. Use temp to hire services
Temporary staffing services often attract a wider variety of candidates. You can use the services to screen candidates for you, as well as to fill open positions. While staffing services can be a great source of candidates for permanent positions, they also allow you to take on workers temporarily. The workers are paid by the service, and you get billed for their wages plus a mark-up. With this arrangement, there's less risk, as you haven't invested time in onboarding someone just to have them not work out. If the construction laborer doesn't fit, the staffing firm will notify them and handle finding you a replacement. You can also hire temporary construction workers directly from the service, often after a set time period.
5. Use short-term hires
If your trade has a definite busy season, don't be afraid to hire new employees for a short time to help you during that time. If you are upfront and honest about the duration of the position, you may attract skilled workers and construction professionals who would not apply for an ongoing position.
6. Create a detailed job description
The more information you provide about the position and the type of person you are seeking, the greater the chance that you'll attract that person. Create a detailed list of the duties to be performed and the skills necessary to perform them. Candidates will then have a complete picture of the position and its requirements.
States are beginning to pass laws requiring job descriptions to include information about wages and benefits. Make sure you disclose this information in your advertisement if it is required.
7. Believe in second chances
If your time and materials contract allows it, think about hiring those who need a second chance in life. Often those who have been in trouble with the law, have struggled with addiction, or are former veterans make excellent candidates for construction jobs. [Federal government and other contracts may not allow you to hire a skilled construction worker with a criminal background. Be sure to check these provisions and your operational cost before hiring someone.] By hiring these qualified workers, you are giving them a great gift, and they are helping you as well. Being able to perform well in a job is often just the boost these people need.
8. Provide competitive pay and benefits
Look at construction job posting advertisements from competitors and other companies in your local area. Compare your pay and benefits to others to ensure that you are offering similar packages. You want to be competitive with other companies but don't want to under or overpay.
If you're looking for more work to keep your newly hired construction professionals busy, construction bidding websites like PlanHub are the resource for you. GCs can post projects they need bids on, and subcontractors can find new construction projects to bid. To see how PlanHub's general contractor software can help your business grow, schedule a free demo.