"PlanHub helps me find jobs tailored to my business. That's how we grew revenue by more than $200,000 this year alone."
---
Summary
De Oliveira Flooring wanted to diversify their business by adding more commercial jobs in a wider region.
Challenges
Expanding commercial business in their region

Matching projects to their business size, skills and resources

Keeping costs down
Solution
Access to a rapidly growing network

Easy-to-use filters to hone in on the right projects

A complete, end-to-end bid management solution, including digital takeoff and helpful analytics

Results
$200,000 additional revenue

Win 6-7 of every 10 bids submitted through PlanHub


Substantial time and cost savings
---
Challenges
"My father got most of his jobs through word of mouth. Like a lot of people of his generation, he didn't use the internet or online tools."
Two years ago, Daianne Barros and her brother became the new generation in De Oliveira Flooring Flooring & Remodeling, a minority-owned business that their father started 15 years ago. With a mobile office, they go where the jobs are — taking on residential and commercial projects throughout south Florida.
"We do lots of flooring installation — wood, vinyl, porcelain —as well as bathroom and kitchen remodels for our residential clients. When it comes to commercial projects, we focus more on the flooring."
When Daianne and her brother first got started with the business, they quickly realized that they needed to find a reliable way to generate new business, build relationships with more general contractors, and expand their reach. They wanted to diversify their business with more commercial jobs to balance out the cyclical nature of residential work — but they weren't sure where to start.
"Residential has highs and lows — for instance, people don't want to start a remodel near the holidays. By increasing our commercial work, we thought we could level it out and keep our revenue steadier throughout the year."
Daianne had taken over the administrative work of bidding, invoicing, customer relations, and keeping track of projects and more. In her fathers day, it was all manual, paper records. She knew there had to be a better way. The siblings had both grown up using technology and thought that there were probably good solutions out there for them.
"I work a lot in West Palm Beach and I saw the sign at your headquarters. I googled you and I was impressed with what I saw. I thought I'd sign up!"
---
Solution
An Easy-to-Use and All-in-One Solution to Identify Commercial Jobs
As soon as Daianne signed up, she got value from PlanHub. She was able to find jobs easily using filters that let her hone in on the exact kinds of jobs she wanted. She could find jobs in their area, select ones that focused on the types of flooring they specialize in — as well as the size jobs she felt were right for their small business. Immediately she saw that PlanHub had many jobs that fit her criteria. She had to be selective so they could manage growth.

"Unlike other bidding platforms that I've looked into, I could find jobs tailored to my kind of business, the size of my business. PlanHub is a really good value — I immediately saved time and money."
Another reason Daianne wanted to find a digital solution was to boost efficiency. As the person handling all the administrative work, from bidding on jobs to customer relationships and tracking jobs, she needed to find a faster way to get the work done. PlanHub's Takeoff tools gave her the ability to do everything she needed in a single solution.

"The takeoff tools have been a game changer for me! Before I had to do takeoff manually or purchase expensive separate takeoff software to measure the plans for a job."
In addition, Daianne uses the built-in analytics to make sure her bids are competitive and that she's looking at the right jobs.
"The takeoff tools and analytics are huge for me — and unique to PlanHub.".
---
Results
Targeting the right jobs is driving growth and building long term success
"I would recommend PlanHub 100%!"
Daianne is keeping her backlog filled with carefully selected project opportunities. While she only submits about 5-6 bids each month — it's clear she is picking the right ones because her win rate is spectacular!
"We win about 6-7 projects out of every 10 we bid on. That's really exciting. We're not wasting time bidding on jobs that aren't right for our skills and talents."
PlanHub has provided the ability to keep a steady stream of revenue despite the cyclical nature of residential work. The company is using PlanHub daily to drive greater productivity and identify the right jobs. PlanHub is now an integral part of Daianne's strategy for continuing health, stable growth over the long term.
"Last year we brought in around $200,000 in additional revenue because of PlanHub. This year I think it will be $300,000-$400,000. Bidding on commercial jobs through PlanHub is going to be our main focus for the year."
Visit the DeOliveira Flooring website for more information.
The latest episode of Grit Daily Startup Show featured Ro Bhatia, the CEO of PlanHub, a B2B tech marketplace and SaaS platform for commercial construction.
Read More >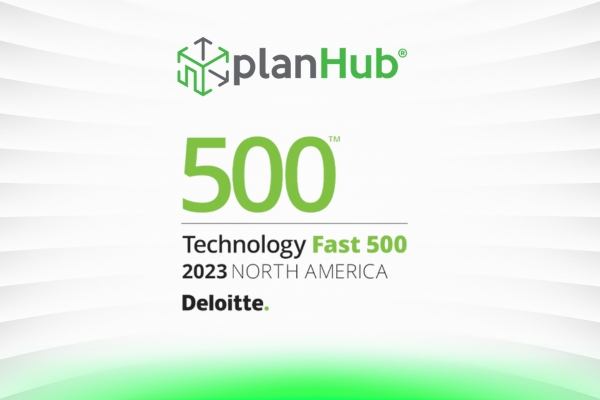 WEST PALM BEACH, Fla., Nov. 14, 2023 /PRNewswire-PRWeb/ — PlanHub, a prominent cloud-based preconstruction software (SaaS) platform, is honored with a much sought-after Deloitte Technology
Read More >
Rewiring your house is a critical safety measure to prevent electrical fires and other hazards. On average, the cost to rewire a house ranges from
Read More >
PlanHub insights, resources, and news, sent directly to your inbox.