Experience is the best way to learn how to become an HVAC technician, so finding the right jobs is important. It isn't enough to find work; you have to win it. In most cases, low bid wins. This means you need to be detailed in your bidding process so you don't miss any costs and lose money. HVAC contractors provide vital services that can significantly affect the price of a project. Bidding a project successfully starts with choosing the right project. To help you win more projects, here's a step-by-step guide to bidding on HVAC jobs and some strategies to ensure that you're competitive.
How to bid HVAC jobs
First, let's take a detailed look at the steps to bid HVAC work.
1. Choose the right project
To help you search, it helps to look up credible construction bidding websites with HVAC jobs. Before quoting an HVAC project, you must know the best projects to bid for your company. This could be based on several factors, including your employees' skill set and the project's location. If the project includes new work that you don't have experience with, add additional costs for the learning curve and possible mistakes. Or, if the project is out of your service area, you may need to add housing and per diem for your employees. PlanHub can help you find more projects that fit your skills and location.
2. Review bid documents
After you've gone through the construction bidding process and received invites or different types of construction contracts, it's time to review bidding documents. For commercial HVAC projects, you will most likely be responding to an invitation to bid (ITB), a request for qualifications (RFQ), or a request for proposals (RFP), some of which you might have received from subcontractor bidding sites. All of these will include documents that describe and show the scope of work to be performed and how to perform it. Drawings provide a visual representation of the work. Specifications provide detailed information on the materials and equipment and how to install them.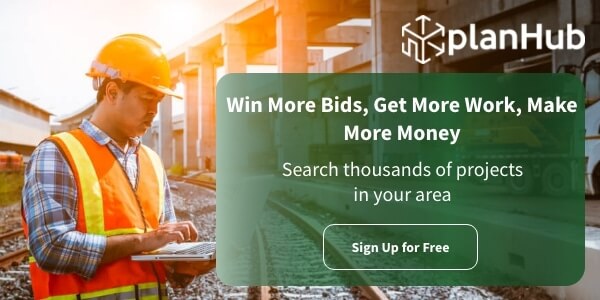 3. Perform a quantity takeoff
A quantity takeoff or material takeoff is a count of the number of materials or equipment needed to complete the construction job. It includes things like lengths of duct, registers, equipment, etc. To perform a takeoff, count the number or length of each material needed on the project. This can be done with the assistance of estimation software, an electronic scale, or a ruler and highlighter.
4. Get quotes from suppliers
Once you've completed your material takeoff and have a list of materials and equipment, you'll send the list to your material and equipment suppliers, along with the appropriate bid documents, to get a quote from them.
5. Estimate labor
Next, you will use your material takeoff to estimate the labor required to install each material or piece of equipment. The most common way to estimate labor is to use past project data. You'll look at a project with similar scope and apply the labor required to the new scope of work. If you don't have past project data to help you determine your labor hours, you can use a labor guide. To determine your labor cost for the project, multiply the total number of labor hours required by your fully burdened labor rate. A fully burdened labor rate includes worker wages, employer taxes, and benefits.
6. Add overhead and profit
Company overhead includes expenses not directly related to performing the work but are required to keep your business running. They include administrative staff, insurance, marketing expenses, office rent and supplies, estimating and sales costs, etc. It is usually calculated by adding a percentage of total project costs. If you don't know what your overhead percentage is, consult with an accountant. Profit is pretty self-explanatory and is usually calculated as a percentage of the total cost of the job.
7. Write your proposal
It's suggested that you create a standardized form for all your proposals to ensure you've included everything. For more information about what a proposal should include, see our article "What Should a Construction Bid Look Like?".
Strategies for bidding HVAC work
Use an electronic takeoff tool
You could make costly errors if you still use a scale ruler and highlighters to take off your projects. Using electronic takeoff software improves accuracy and saves time, enabling you to bid more work.
Retire your bid spreadsheets
Using spreadsheets for bidding is as old school as using a scale ruler. Today there are lots of options for estimating software to help you create and track your proposals.
Know your competitors
It's important to know who your competitors are in the locations you serve. Know what services they provide and how much they charge. This will give you insight into how to bid successfully against them.
Track your wins and losses
Tracking your construction bids wins and losses provides a wealth of information about your competitiveness and your competition. What types of jobs do you do well? Where do you struggle? Tracking bidding results will help you learn a lot about your company so you can strategize your bidding efforts.
Finding the right job for you
In order to create and maintain a successful HVAC business, you must always be searching for new work. To help you find new construction projects with HVAC jobs, turn to a reliable job site. PlanHub helps you find the jobs you need in your area quickly and easily. Once you've found a job that fits your skills, use the steps and strategies above to write a winning proposal.
If you're an HVAC subcontractor and you want to see how PlanHub can help you expand your business, contact us today.