A good construction estimator is key to a profitable project. If an estimator makes a mistake, the company could lose money on the project, so it's important to ensure accuracy. We've put together this article as a summary of a construction estimator's role, responsibilities, and the skills necessary to become one.
Construction estimator role
A construction estimator provides pricing for a proposed scope of work or project. In order to do this, the cost estimator must understand how the project will be built. The cost estimator prices the materials, equipment, and labor required to perform the work. The price must be competitive, but not so low that the company loses money. Most construction estimators work with a team, including other construction estimators, project managers, construction project management, and marketing personnel.
Construction estimator's responsibilities
An estimator's primary responsibility is to determine the total cost for a project or a particular scope of work. The scope of work is usually defined by drawings and specifications created by an architect or engineer. The estimator uses these drawings and specifications to create a material list or take-off. The take-off lists each material, the quantity required for the project, any equipment needed to install it, and how much time it will take to perform the work.
Once the take-off is completed, the estimator assigns a price to each material, equipment, and labor unit that is used. The price must also include costs such as overhead expenses, and a certain amount of profit, usually calculated as a percentage of the total cost. Estimators often use past project experience to help inform their current accurate estimates.
The final step is to write up a proposal for the customer that details the work inclusions, exclusions, and alternates. Construction cost estimators for a general contractor may also be responsible for assessing proposals from subcontractors to determine who offers the best pricing. If the contractor's proposal is approved for construction, the estimator hands the project off to the project manager.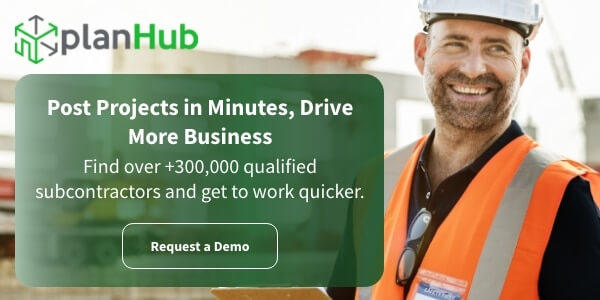 Estimator skill set
An estimator benefits from having the following skills:
They should be detailed oriented
Accuracy is extremely important
Math is involved in calculating pricing
They should be able to read and interpret plans and specifications
They must be able to communicate and work with a team
Estimator experience and education
Estimators should have a well-rounded knowledge of construction and design. This can come from college courses in engineering or architecture, or from experience working in the construction industry. Manufacturing or construction experience is beneficial to help an estimator understand how a project is built.
Since estimators are working with material counts and pricing, they need to have math skills. Although software and computers do most of the calculations, it's good to have a math knowledge to draw on.
Estimator tools
Estimators use a variety of tools for taking off work and pricing.
Estimating software – Estimators use this software to calculate and price the materials, equipment, and labor needed to complete a project. Using estimating software helps organize the take-off process, ensuring that nothing is missed.
Pricing database – Estimators often use a pricing database to provide costs for the material and labor cost needed to complete the project. The database may be specific to their company or may be a general database available to all contractors. Estimators must know how to use these databases to look up construction costs and installation times.
Architectural or engineering scale – Architectural or engineering scales, which look similar to a ruler, help estimators perform material take-offs. Plans are drawn to scale, and a scale helps translate the scale of the document to real-world dimensions. Electronic scales are also available.
Plan reading software – Most project plans are sent in PDF format. Some companies use special software to help them perform more accurate take-offs on PDF drawings. Others use AutoCAD software to get information directly from the model space. This software is not required but can make estimating a project easier and improve accuracy.
Spreadsheets – There are still a lot of contractors that use spreadsheets for their cost estimation and proposals. They are useful if users know how to use them correctly. There are often mathematical and typing errors, which can cause a company to lose money on a project. Spreadsheets should be checked and reviewed multiple times to ensure their accuracy.
Often estimators are asked to search for and find new work to bid. Using a lead site like PlanHub makes an estimator's job easier. You can set up alerts to email you when projects requiring your trade are posted in your service area. General contractors can also use the site to reach out directly to subcontractors and invite them to bid on their projects. PlanHub makes finding new work to bid easy, ensuring business success into the future.
For more construction-related resources like How to Create a Construction Schedule and Automation in Construction, visit the PlanHub blog today.
If you are interested in general contractor software free or want to find new construction projects, check out our construction bidding websites.